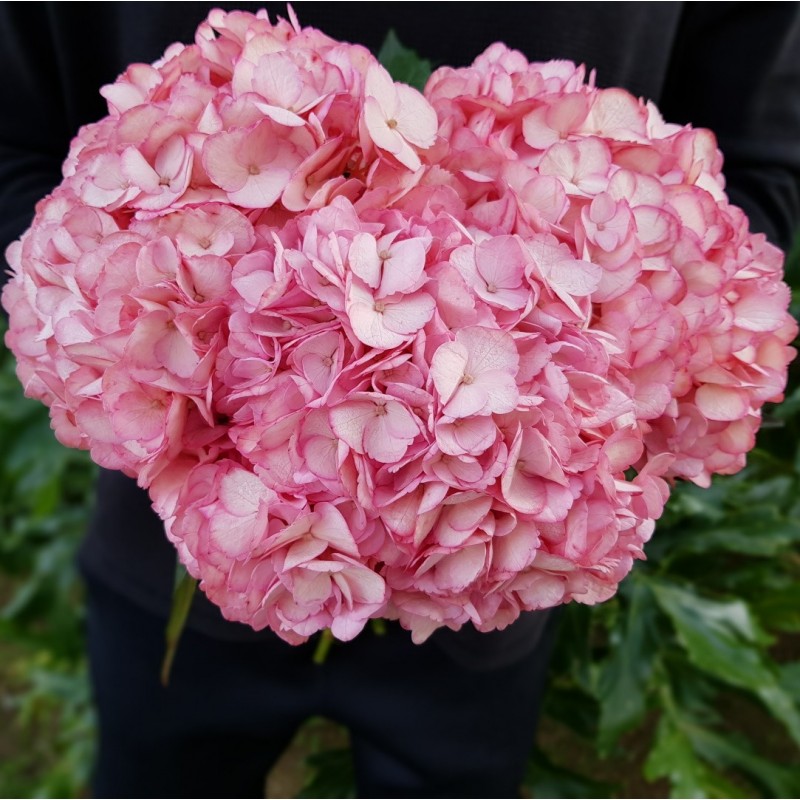  
Hot Pink Hydrangeas - Extra
Fresh-cut hot pink hydrangea stems in a box
FREE shipping with FedEx on any order!
Important:
Please check the FedEx shipping and delivery service information below.

To be able to select your desired delivery date, please place your order at least a week before your event.
Hot pink hydrangeas are gorgeous flowers. They are perfect for baby shower centerpieces, wedding floral arrangements, and pink decoration themes.
Specifications
Each stem is shipped with a water bag attached to it to keep the flower hydrated during transport
Suggested delivery date: 2 days before your event
Slight shade variations from the actual picture may occur but will be consistent within the bouquet
Packing: 2 cartons
Cut Hydrangea Care
Important! Follow these instructions as soon as you receive your flowers.
Cut the stems at a 45-degree angle underwater
With a knife scratch the bottom part (approximately 2 inches) of the stems. The flowers will hydrate better this way
Place your flowers in a container and add clean water. Let them hydrate for at least 5 minutes or until you are ready to make your flower arrangements.
Spray the blooms with clean water every other day to rehydrate.
Make sure that the water level is always above the cut stem level.
Change the water in the vase and recut the stems every 3 days.
Keep flowers out of direct sunlight and away from heat and drafts.
FedEx shipping and delivery service information:
| | | |
| --- | --- | --- |
| The day you order | The day your order will be shipped | Expected delivery day |
| Sunday | Monday | Thursday |
| Monday | Tuesday | Friday |
| Tuesday | Thursday | Monday  |
| Wednesday | Thursday | Monday  |
| Thursday | Friday | Tuesday |
| Friday | Monday | Thursday  |
| Saturday | Monday | Thursday  |

Important! We highly recommend you check your order's tracking number in your Ecofreshblooms account. With your tracking number, you will know when your flowers are scheduled for delivery so that you can arrange for someone to receive them. Sometimes FedEx will decide to leave your flowers outside, which may affect the flowers if the temperature is too high or too low. 
Data sheet
Color

Hot pink

Bloom size

4.0 - 4.9 in (18-20 cm)

Stem length

21.65 inches (55 cm)
Product Reviews / Q&A
Reviews (0)

All reviews (0)
Has image/video (0)
Excellent (0)
Good (0)
Medium (0)
Poor (0)
Terrible (0)

Latest
Oldest
High rating
Low rating
Helpful