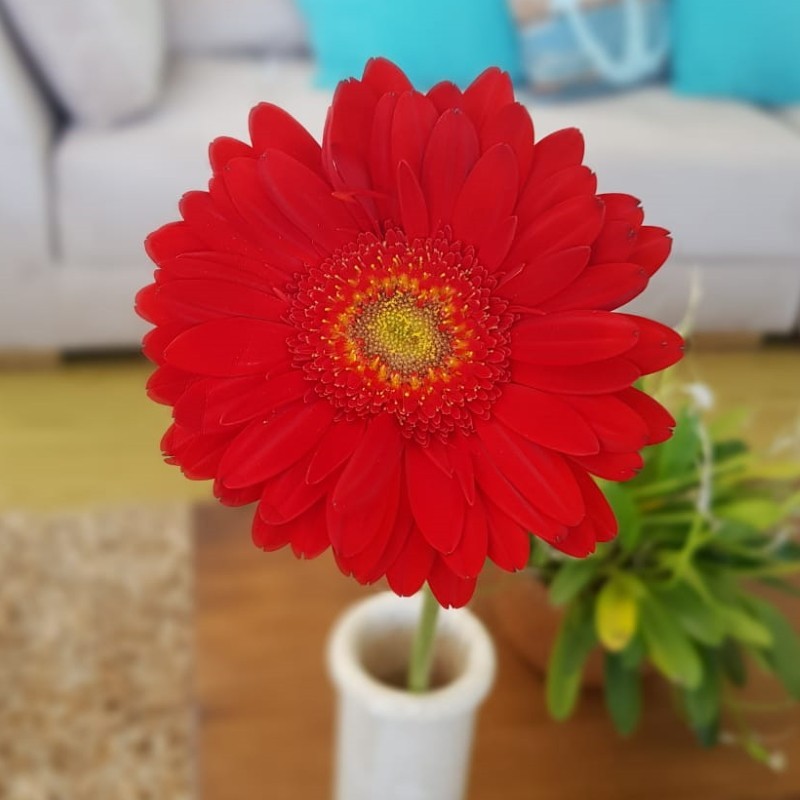  
Red Gerbera Daisies
56 stems red Gerbera Daisies
FREE shipping with FedEx on any order!
Important:
Please check the FedEx shipping and delivery service information below.
To be able to select your desired delivery date, please place your order at least 8 days before your event.
Gerbera daisies are beautiful happy flowers. These flowers make bright and lively flower arrangements.
They are perfect for easy DIY inexpensive centerpieces. 
Specifications
Each stem is shipped with a plastic straw to prevent the bloom from bending or breaking during transport.
Suggested delivery date: 2 days before your event
Slight shade variations from actual picture may occur but will be consistent within the bunch
Packing: 2 cartons 4.8 W x 38.2 L x 4.2 H inches each
Cut Gerbera Daisies Care
Important! Follow these instructions as soon as you receive your flowers.
Cut the stems at a 45-degree angle underwater
Combine a sachet of the flower food and tap water in a clean container. Fill your vase to a 1 to 2 inches depth with the solution.
Hold the cut end of the gerbera stems underwater. Cut off the bottom 1/2 inch of the stem at a 45-degree angle, using a sharp knife or scissors.
Arrange the flowers in the vase immediately after cutting the stems. The shallow water should only cover about 1 to 2 inches of the stems. Otherwise, the stems will become soft and weak if fully submerged.
Set the vase in a cool room to condition the fresh cut flowers overnight. Temperatures between 65 and 70 degrees Fahrenheit, preferably.
Place the flowers away from high heat or freezing temperatures, such as near drafty windows, air vents, or air conditioners.
Replace the water in the vase every two days or sooner if it begins to discolor. Maintain the water depth so the cut end of the stem remains submerged. If the bottoms of the stems become spongy or the flowers begin to wilt prematurely, recut the stems to improve the uptake of water.
FedEx shipping and delivery service information:
| | | |
| --- | --- | --- |
| The day you order | The day your order will be shipped | Expected delivery day |
| Sunday | Monday | Thursday |
| Monday | Tuesday | Friday |
| Tuesday | Thursday | Monday  |
| Wednesday | Thursday | Monday  |
| Thursday | Friday | Tuesday |
| Friday | Monday | Thursday  |
| Saturday | Monday | Thursday  |

Important! We highly recommend you check your order's tracking number in your Ecofreshblooms account. With your tracking number, you will know when your flowers are scheduled for delivery so that you can arrange for someone to receive them. Sometimes FedEx will decide to leave your flowers outside and this may affect the flowers if the temperature is too high or too low. 
Data sheet
Color

Red

Stem length

27.6 (70 cms)
Product Reviews / Q&A
Reviews (0)

All reviews (0)
Has image/video (0)
Excellent (0)
Good (0)
Medium (0)
Poor (0)
Terrible (0)

Latest
Oldest
High rating
Low rating
Helpful